|Gie Luyten| I really don't know how many books I wrote in my life, certainly more than fifty (some together with co-authors), about art, poetry, culture and literature.
As I started studying and making my first jewellery pieces I didn't have time to write anymore. Making jewellery, art objects and sculptures, together with my wife Monique De Ceulaer, became a full time obsession. A few years later, working with Ruudt Peters in Ravenstein changed my mind. It was so fascinating that words came automatically and I wrote about Ruudt, about my experiences, my ideas, my feelings… Since then writing about contemporary jewellery as art objects became a second obsession. Gie Luyten
My first text about Ruudt Peters at Ravenstein.
Gie Luyten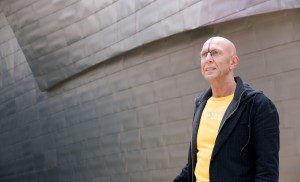 Gie Luyten  JewelleryNotes – about contemporary jewellery as art objects