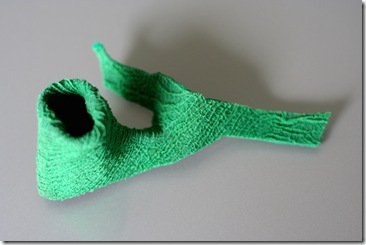 Gie Luyten, The Green hole, Ruudt Peters, Fly Now workshop
Summer 2007 was a birth of ideas in Ravenstein in the Netherlands. I worked with Ruudt Peters and changed my way of working. The Green hole brooch was a piece I made during the workshop. The UpDown at the end of this page I made a time later, after I burned a lot of pieces when I came back home in reality. This was the text I wrote the day after.
One flew over the jewellery's nest
I heard someone saying: I must find a material I'd like to work with, but I can't find a special one! What kind of material you think about at THIS very moment? Ruudt Peters asked. It's all dust I think about! Okay, you want dust, then you can have dust! As a hurricane Ruudt flew over and between the artists and their working tables, rushed to a place in the studio where all kinds of instruments and materials were stored, pulled with both hands the large overfilled sack out of the vacuum cleaner, flew back as a helicopter with the sack of dust above his head and let it gently land on the lady's shoulders while he folded it, as a wealthy necklace, around the head of a queen while he said with a heavy voice: You asked for dust my dear, here is your dust! The first seconds our queen didn't realise what happened. After a few minutes she was heating, washing, hammering, burning the dust and mixing it with other materials. A few hours later strange interesting pieces with different forms and materials were laying on her table and at the end of the day, as a real queen, she showed a very special necklace made of dust to the other participants, a necklace that surely would have astonished mister Hoover when he created his first vacuum cleaner.
Ruudt Peters summer studio, Ravenstein in The Netherlands
Twelve young and older jewellery artists from all over the world took a flight to the workshop Fly now and tried to stay in the air of contemporary art jewellery from morning till late evening. The fact that the participants were born or lived in New Zealand, United Kingdom, Denmark, Canada, Italy, Belgium, USA, Saoudi Arabia, Argentina, Brasil, Swiss and Russia, worked together, lived together, ate savoury international meals together and mixed their ideas about jewellery, was an inexplicable sensation and experience. The way that Ruudt Peters and his assistant Ineke Heerkens guided us through all the different cultural habits, found gates to fly from one place to another and from one jewellery piece to another, shared their knowledge of the art jewellery scene all over the world, made us realise at the end that we not only visited The Netherlands, but were all lifted off by wind and self made aerodynamic objects and made a world tour of art jewellery.
During the workshop we investigated ideas, feelings, colours, materials, textures, we passed and changed the borderlines of our knowledge and habits, learned to take difficult steps. Then we created dozens of pieces, threw them all away or left just one on our table. Why? Because it was made by the belly? Because it touched us emotionally? Because it showed the world upside down? Because it had power and balls? Because you could feel the tension between the forms and the materials? Or, because at the end it was not just a piece, but a piece of jewellery?
We saw, felt, sniffed, heard things, materials, pieces, as we never did before. We explained our individual feelings and creations with words, colours, movements, presentations and… tears. Ruudt's talent as a teacher, an artist and as the pilot of the aeroplane Fly Now 2007 let us reach high clouds far beyond the power of our engines.
Gie Luyten
Gie Luyten, UpDown, brooch, silver, paint, paper of genetically manipulated sereals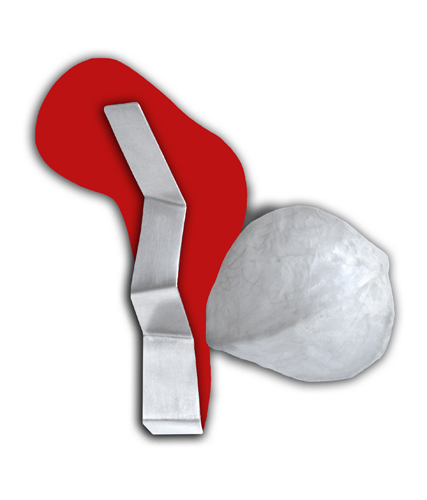 Updown, Gie Luyten, brooch, silver, paint, paper of genetically manipulated sereals
Ruudt Peters workshop Fly Now, the day after