A fascinating interaction between nature and culture
—
Terhi Tolvanen, necklace
Neige, 2009
wood, polyester, paint, silver
—
Terhi Tolvanen & Evert Nijland: Naturae
Management: Christian Balmer and Ilona Schwippel
Place: viceversa bijoux contemporains
(Lausanne, Switzerland)
13-Mar-2010 – 17-Mar-2010
Terhi Tolvanen and Evert Nijland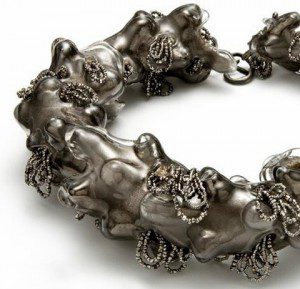 Evert Nijland, Noordzee, necklace
glass, linnen, silver, antique iron beads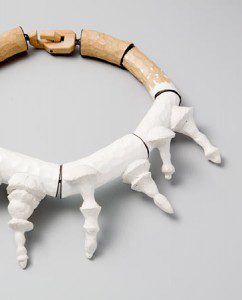 Terhi Tolaven, Neige, 2009
Naturae presents two artists, both concerned in different ways with the interaction between nature and culture. Terhi Tolvanen is fascinated by interference generated by man in his contact with nature, and by the unexpected strategies developed by the latter to defend itself against this. The unpredictability of the living world and the dialogue between control and freedom constitute the main axes of her research.
Evert Nijland has a passion for the interpretation of nature made by artists from the Renaissance and Baroque periods. He deciphers codes from the history of art to transpose floral patterns from those days to contemporary issues.
Terhi Tolvanen (1968 – Finland)
Diplome, Gerrit Rietveld Academy (1997)
Masters at Sandberg Institute in Amsterdam (1999).
She lives and works in Amsterdam.
Evert Nijland (1971 – The Netherlands)
Diplome, Gerrit Rietveld Academy (1995)
Masters at Sandberg Institute in Amsterdam (1997).
He lives and works in Amsterdam.
Exhibition
We welcome you to a conference before the opening, at PM 4:30, on saturday, March, the 13th, 2010. Exhibition until April 17th.

After Lausanne, the exhibition will be presented in Rotterdam, Munich and London.
Texte français Terhi Tolvanen et Evert Nijland
Naturae présente deux artistes se préoccupant chacun à sa manière de l'interaction entre nature et culture. Terhi Tolvanen est fascinée par les interférences générées par l'homme dans son rapport à la nature, et par les stratégies inattendues que cette dernière développe en retour pour s'en défendre. L'imprévisibilité du vivant, et le dialogue entre contrôle et liberté constituent les axes de sa recherche. Evert Nijland se passionne pour l'interprétation que les artistes ont faite de la nature à l'époque de la Renaissance et du Baroque. Il déchiffre les codes de l'histoire de l'art pour transposer les motifs floraux de l'époque en interrogations contemporaines.
Terhi Tolvanen and Evert Nijland: Naturae
viceversa bijoux contemporains
Place Saint François 2, 2ét.
7698 Lausanne Switzerland
website Terhi Tolvanen
website Evert Nijland
website viceversa