Expo Lingam – Galerie du WCC-BF, Mons (Belgique)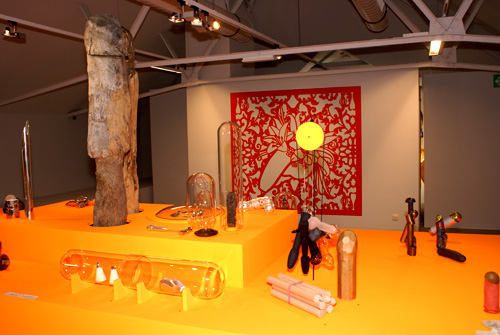 Lingam WCC Mons Marcel Wanders Ruudt Peters Ivar Borkman (photo Gie Luyten)
—
8 mai – 22 aout 2010
Lingam
121 symboles de fertilité contemporains
—
L'exposition LINGAM avec 121 interprétations d'un symbole ancestral de fertilité : le lingam.
Représentation symbolique du phallus et du dieu Shiva, le Lingam représente la force créatrice à la base de l'existence de tout l'univers. Dans les religions hindoue et bouddhique, c'est par le biais du lingam que l'on honore quotidiennement le dieu Shiva, la représentation phallique n'y est nullement mise en relation avec le sexe.
Dans la culture occidentale, le phallus évoque la sexualité et le plaisir. Alors qu'il fut un temps où le Christianisme et la culture judéo chrétienne mettaient également en avant la sexualité comme acte créateur positif. Depuis la séparation du corps et de l'esprit, cet aspect en a été banni et d'une référence sacrée, la sexualité est devenue un mal nécessaire.
Avec l'exposition LINGAM, son commissaire, le plasticien Ruudt Peters(NL), désire rétablir cette signification initiale ainsi que sa dimension spirituelle.
WCC Mons Gie Luyten Norman Weber Udi Lagallina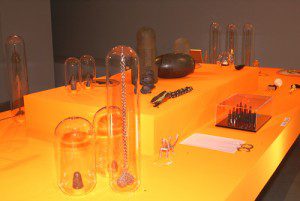 WCC Mons Frederic Braham David Bielander Esther ijskoot photo Gie Luyten
Partant de sa fascination pour le lingam dont il a découvert l'existence il y a dix ans lors de voyages en Asie du Sud-est, il a eut envie de proposer à des artistes et designers contemporains de créer un objet symbolisant la fertilité, chaque créateur interprétant le sujet en se basant sur sa propre sensibilité et sa perception personnelle du thème.
121 créations ont ainsi vu le jour et sont présentées dans une scénographie où la signification originelle du lingam est soulignée par la présentation des objets contemporains en compagnie de leurs modèles originaux."
Après deux étapes particulièrement remarquées à Stockholm et Utrecht, l'exposition Lingam sera présente cet été aux anciens abattoirs de Mons où la Galerie du WCC-BF accueillera les œuvres des 121 créateurs, issus de 24 pays à travers le monde, qui se sont prêtés au jeu de la réinterprétation de ce symbole fort, à la fois si spécifique et universel.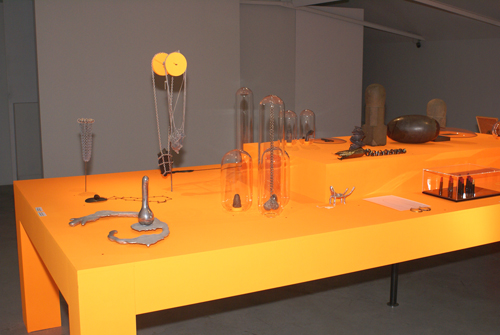 WCC Mons lingam Lucy Sarneel Christiane Forster Tea van Hoften photo Gie Luyten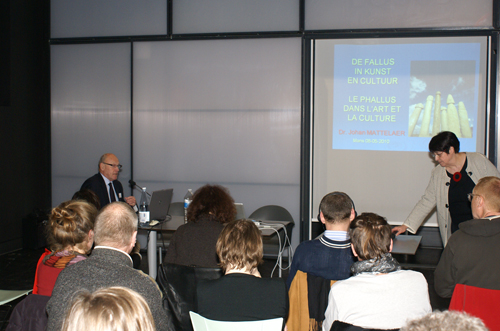 WCC Mons Lingam Anne Leclercq Johan Mattelaer photo Gie Luyten
Artistes:
Alexander Blank Andi Gut Agnes Larsson Aurel Schiller Anders Lagombra Adam Grinovich Bussi Buhs Brune Boyer Benjamin Lignel Célio Braga Carla Castiajo Christiane Förster Constanze Schreiber Carla Nuis Carolein Smit Christoph Zellweger David Bielander Detlef Thomas Dagmar Heeser Daniel Kruger David Huycke David Taylor Daniela Hedman Erik Kuiper/Joana Meroz Evert Nijland Estela Sàez Vilanova Elisa Deval Esther Knobel Eija Mustonen Esther Jiskoot Frederic Braham Florence Lehmann Fabrice Schaefer Fredrik Ingemansson Gie Luyten Gunilla Bandolin Gesine Hackenberg Graziano Visintin Hilde de Decker Henriette Schuster Helfried Kodré Helena Lehtinen Hedda Bjerkeli Helen Britton Hanna Hedman Iris Bodemer Ineke Heerkens Iris Eichenberg Ivar Björkman Julia Walter Joop Haring Johanna Schweizer Javier Moreno Frias Jorge Manilla Johanna Dahm Julia Turner Kadri Mälk Karin Johansson Karl Fritsch Katja Prins Kim Buck Karen Pontoppidan Luzia Vogt Lucy Sarneel Lisa Walker Manfred Bischoff Miro Sazdic Manfred Nisslmüller Manuel Vilhena Monika Brugger Marc Monzo Machteld van Joolingen Marian Bijlenga Manon van Kouswijk Marianne Schliwinski Marcel Wanders Mascha Moje Michael Petry Matt Stone Nedda El-Asmar Nanna Melland Norman Weber Nelli Tanner Oliver Füting Piret Hirv Paul McClure Petra Zimmerman Peter Skubic Pedro Sequeira Peter Vermandere Peter Hoogeboom Paul Derrez Pavel Opocensky Pornpilai & Jiradej- Meemalai Rudee Tancharoen Ramon Puig Cuyas Ruudt Peters Ruud-Jan Kokke Sigurd Bronger Sergey Jivetin Sofia Björkman Sara Borgegård Sophie Hanagarth Studio Makkink&Bey Suska Mackert Sam Tho Duong Sissi Westerberg Tanel Veenre Thomas Gentille Tobias Birgersson Tarja Tuupanen Terhi Tolvanen Teja van Hoften Ted Noten Ulo Florack Udi Lagallina Volker Atrops Wolfgang Lieglein Warwick Freeman Yuka Oyama Zeger Reyer Gijs Bakker
—
website WCC-BF Mons Belgique/Belgium
website Catharijneconvent  Utrecht
Lingam exhibition Stockholm Konstfack Sweden
Lingam tentoonstelling Catharijneconvent in het Nederlands; in English
Lingam exhibition WCC-BF Mons België in English
—
English
Lingam
The lingam is a wooden or stone object in the shape of a phallus, which represents life and fertility. In Hindu and Buddhist cultures, the lingam is worshipped and revered. It is not only a fertility symbol, but also stands for a primeval creative force, a force that is strongly linked to sexual energy. In Southeast Asia, reverence for life and religion are closely linked. Lingam worship takes place frequently and in public places. In contrast, in the West, the lingam is seen mainly as a symbol of lust and sex. The exhibition Lingam: Fertility NOW aims to provide artistic alternatives to our present-day Western interpretation of the lingam and, in the process, to take a fresh look at this symbol's original, sacred context.
Fertility
The exhibition curator, Ruudt Peters, is an artist and professor at the Ädellab at Konstfack University College of Arts, Crafts and Design in Stockholm, and this event marks his departure as a teacher there. His fascination with the lingam inspired him to ask artists and designers to create their own fertility symbols. These contributors explored the subject through the lens of their own experiences, each producing a personal artistic statement about fertility. To emphasize the original, sacred context of this type of object, the exhibition Lingam: Fertility NOW at WCC-BF Mons Belgium will pair these modern-day fertility symbols with their historical predecessors.
Alexander Blank Andi Gut Agnes Larsson Aurel Schiller Anders Lagombra Adam Grinovich Bussi Buhs Brune Boyer Benjamin Lignel Célio Braga Carla Castiajo Christiane Förster Constanze Schreiber Carla Nuis Carolein Smit Christoph Zellweger David Bielander Detlef Thomas Dagmar Heeser Daniel Kruger David Huycke David Taylor Daniela Hedman Erik Kuiper Joana Meroz Evert Nijland Estela Saez Vilanova Elisa Deval Esther Knobel Eija Mustonen Esther Jiskoot Frederic Braham Florence Lehmann Fabrice Schaefer Fredrik Ingemansson Gie Luyten Gunilla Bandolin Gesine Hackenberg Graziano Visintin Hilde de Decker Henriette Schuster Helfried Kodré Helena Lehtinen Hedda Bjerkeli Helen Britton Hanna Hedman Iris Bodemer Ineke Heerkens Iris Eichenberg Ivar Björkman Julia Walter Joop Haring Johanna Schweizer Javier Moreno Frias Jorge Manilla Johanna Dahm Julia Turner Kadri Mälk Karin Johansson Karl Fritsch Katja Prins Kim Buck Karen Pontoppidan Luzia Vogt Lucy Sarneel Lisa Walker Manfred Bischoff Miro Sazdic Manfred Nisslmüller Manuel Vilhena Monika Brugger Marc Monzo Machteld van Joolingen Marian Bijlenga Manon van Kouswijk Marianne Schliwinski Marcel Wanders Mascha Moje Michael Petry Matt Stone Nedda El-Asmar Nanna Melland Norman Weber Nelli Tanner Oliver Füting Piret Hirv Paul McClure Petra Zimmerman Peter Skubic Pedro Sequeira Peter Vermandere Peter Hoogeboom Paul Derrez Pavel Opocensky Pornpilai & Jiradej- Meemalai Rudee Tancharoen Ramon Puig Cuyas Ruudt Peters Ruud-Jan Kokke Sigurd Bronger Sergey Jivetin Sofia Björkman Sara Borgegård Sophie Hanagarth Studio Makkink&Bey Suska Mackert Sam Tho Duong Sissi Westerberg Tanel Veenre Thomas Gentille Tobias Birgersson Tarja Tuupanen Terhi Tolvanen Teja van Hoften Ted Noten Ulo Florack Udi Lagallina Volker Atrops Wolfgang Lieglein Warwick Freeman Yuka Oyama Zeger Reyer Gijs Bakker
—
website WCC-BF Mons Belgique/Belgium
website Catharijneconvent  Utrecht
Lingam exhibition Stockholm Konstfack Sweden
Lingam tentoonstelling Catharijneconvent in het Nederlands; in English
Lingam exhibition WCC-BF Mons België in English
—