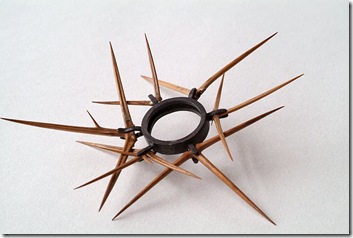 Jorge Manilla (Mexico/Belgium)
I'm already following the jewellery work of Jorge Manilla from the time he was studying in Antwerp. His graduation show as a part of an exhibition in Sterckxhof Deurne (Belgium) was really fascinating.
When I heard the comment of people passing by, most of them found the first collection of Jorge too hard. And I said to my wife next to me, who was admiring his work with the same feeling: What does it mean 'too hard'? Is is too hard because Manilla mixes up religious Mexican amulets and ex-voto's with catholic symbols,? Is is too hard because he cuts the figure of Jezus into pieces to become a necklace, while so many European people are wearing a crucified Jezus around their neck for thousands of years already? Is it too hard because this Mexican artist layered his multicultural memories into jewellery that also could have been paintings, music, graphics, dance or sculptures, as if his young talent wanted to create a bootleg for his next dj-set? Or is it too hard in a realistic sense because he uses real thorns to wear on the human body?
He was there, when I was admiring his work in Sterckxhof, and I asked him why some visitors found his work so hard. Without searching words he immediately gave an answer. In five minutes he told us the story of his life. The story of his life was the story of the jewellery he made. Hard meant honest. He made a reality show. And after the chat my wife and I said to each other. Jorge is not going to be an artist, he already is.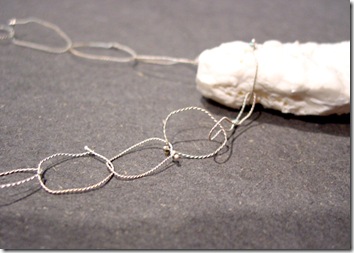 Jorge Manilla, Graduation show (photo Gie Luyten)
Sterckshof Deurne (Belgium)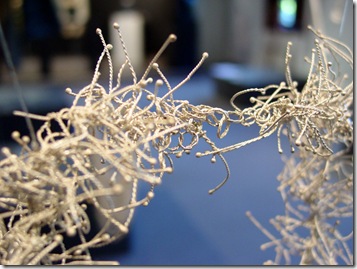 Jorge Manilla, Graduation show (photo Gie Luyten)
Sterckshof Deurne (Belgium)