Onzichtbaar kunstwerk van Monique De Ceulaer & Gie Luyten leeft verder in foto en film
___
Tentoonstelling LeopOLDvilleNEW
Cultureel Centrum Leopoldsburg
7 – 30 september 2012
___
Monique
De Ceulaer & Gie Luyten
Het kunstenaarsechtpaar Monique De Ceulaer & Gie Luyten plaatst het eerste onzichtbare kunstwerk in Leopoldsburg. Het werk stelt een menselijk wezen voor dat ontstaat en groeit uit de aarde, maar er ook weer in verdwijnt. Op de bouwwerf van Leopoldville wordt het letterlijk in de grond gestopt en zal het alleen verder leven op foto en film.

(Gie Luyten) Monique De Ceulaer & Gie Luyten, tentoonstelling Leopoldvillenew met Piet Stockmans, Jef Geys, André Hanjoul, Tjen Heyligen (masterclass workshop beeldhouwen carvingSculpting, carving, modelling and sculpture with clay, stone, marble at Royal Academy of fine Arts in Antwerp DKO in Belgium)
Tentoonstellingen
Werken van Monique De Ceulaer & Gie Luyten werden tentoongesteld in tal van musea.
Museum of Decorative Arts, Praag, Czech Republic; Textilmuseum Sankt Gallen, Zwitserland; Odder Museum, Denemarken; Théâtre Municipale, Luxembourg; Ambassade van Japan, Brussel; International House, Osaka, Japan; Museum voor Deinze en de Leiestreek; Provinciaal Museum voor Religieuze Kunst, Sint-Truiden; Gouvernement Provincie, Maastricht; Provinciemuseum Van Humbeek-Piron, Leuven; Diamantmuseum, Antwerpen; Konstfack Stockholm, Zweden; Museum Catharijneconvent Utrecht, Nederland; World Craft Center, Mons; Centro De Documentacio I Museu Textil, Barcelona, Spanje; Belgium Flanders Exchange Center, Tokyo, Japan.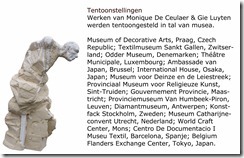 (Gie Luyten) Werken van Monique De Ceulaer & Gie Luyten werden tentoongesteld in tal van musea. Samen ontvingen ze heel wat prijzen en onderscheidingen.
Behaalde prijzen
samen behaalden ze tal van prijzen en onderscheidingen, o.a.:
Laureaat Eerste Prijs van de Stad Brugge; Nationale Wedstrijd Grafische Kunsten, Kunststichting Perspectief; Panther Paperback Prijs; Laureaat Provinciale Prijs voor Kunstambachten van de Provincie Antwerpen (Het diamantjuweel als kunstobject); Prijs Belgium Flanders Exchange Center,Osaka Japan; Kunstprijs Overpelt; Eervolle vermelding Nationale Industrieprijs voor Grafiek, Neerpelt; Eerste Prijs herdenking 100 Jaar Johan Strauss Senior; Eervolle vermelding Piet Staut Prijs; Laureaat Centrum van de Vlaamse Gemeenschap, Osaka, Japan.
www.gieluyten.be – gieluyten@gmail.com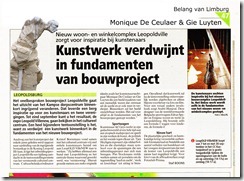 (Gie Luyten)
Monique De Ceulaer & Gie Luyten, eerste onzichtbare kunstwerk verdwijnt in fundamenten van bouwproject Leopoldville,  Leopoldsburg,(masterclass workshop beeldhouwen carving Sculpting, carving, modelling and sculpture with clay, stone, marble at Royal Academy of fine Arts in Antwerp DKO in Belgium)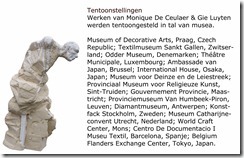 (Gie Luyten)
(masterclass workshop beeldhouwen carvingSculpting, carving, modelling and sculpture with clay, stone, marble at Royal Academy of fine Arts in Antwerp DKO in Belgium)
Monique De Ceulaer & Gie Luyten, eerste onzichtbare kunstwerk verdwijnt in fundamenten van bouwproject Leopoldville,  Leopoldsburg,
Tentoonstelling LeopOLDvilleNEW