Collection Gie Luyten & Monique De Ceulaer
Updown – Staircases in Chateau Le Paige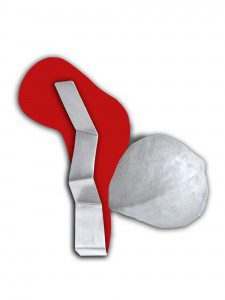 —
Gie Luyten & Monique De Ceulaer
brooch, UpDown
silver, laquer, old paper, genetically
manipulated cereals
—
Updown
I
We offered each other the signs
of our sky-white staircase.
We unravelled an alphabet of steps
out of a spaceless language.
And silent  took red as an interpreter.
II
Let's go. We've only left
two blackbirds time to make
the jewellery beautiful.
III
On this last supper we take
each other's beaker and drink to the silver
of the eternal reconciliation.
However deep the night may be,
no island in it goes astray.
Gie Luyten
jewellery designer ID Gie Luyten
website Gie Luyten