Caroline Van Hoek: Art jewellery in a grocery store
—
Contemporary jewellery
in the artistic heart of
Brussels
—
A few steps from the famous Avenue Louise and hidden between many contemporary art galleries in Brussels, Caroline Van Hoek transformed a small grocery store to a great jewelry gallery. The traditional façade is original, but inside Glenn Sestig Architects didn't "(re)store" the place to its original state but made an innovative space for contemporary art jewellery delicacies.
Many times already I wanted to write about this gallery, but I didn't know exactly what to mention. Now I think I found some words for it.
I don't like to copy the internet, but these words I found on the internet about Caroline Van Hoek Gallery in Brussels: 'The artists are very different from each other. Some figure in private collections or specialised museums. Some make furniture, combs, little statues or prints to complement the message. All works are unique pieces.
The specialty of the house are lots of wood, leather, ceramics, bone, textile, corian, etc. with a dash of gold or silver and a sparkle of precious stones, combined with fine seasonal ingredients.'
And this is my opinion:
Caroline Van Hoek Gallery is special, unforeseen, unique, unexpected, exceptional, incidental, particular, unpredictable, different, unlikely, original, irresistable, innovative, compelling, unorthodox, fascinating, open minded, inventive and… really contemporary.
website Caroline Van Hoek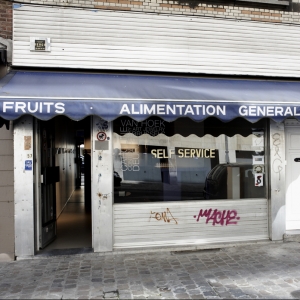 Galerie Caroline Van Hoek
Rue Van Eyck 57
B-1050 Brussels (Belgium)